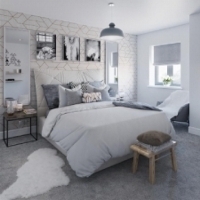 If you're planning on buying a house this year, you might be wondering if you should buy a new build or an older home.
As the developer of behind the stunning new schemes, The Old Picture House in Lichfield and Old Chapel Fazeley, here are our five reasons why new builds are best.
1. High specification Good new homes come with the latest materials, appliances and technology. At The Old Picture House, for example, we've fitted wi-fi controlled heating, Amtico flooring, Bosch kitchen appliances and Porcelanosa tiles and Hudson Reed fittings in the bathrooms of each apartment.
2. Energy efficiency New builds have to meet the most up-to-date Building Regulations, which include energy efficient insulation and heating standards. This means your utility bills will be lots cheaper than if you lived in an older home, and you'll have a much lower carbon footprint.
3. A blank canvas As the very first owner, you can make your mark on your new homes and easily decorate it to your taste. Whereas with an older home it might take a little more time and effort to replace the decor of the previous owner, with work including renovating rooms, stripping wallpaper and replacing carpets.
4. Financial assistance There are several government initiatives to make it easier to secure funding for a new home. The Help to Buy Scheme, for example, enables people on all stages of the property ladder to purchase a new home for just 80% of the listed price – made up of a 5% deposit to be paid by the purchaser, plus a 75% mortgage. The remaining 20% is provided in the form of an equity loan from the Government. So that means you could purchase The Monroe one bedroom apartment at The Old Picture House, which has a list price of £190,000, with a deposit of just £9,500 and a mortgage of just £142,500
5. No stressful moving chains - Once the developer signs off a new home, it's ready for the owner to move into and there's no waiting for the previous owner to move out. But when you buy an older home, you're likely to end up in a property chain of buyers and sellers depending on each other to be ready to move at the same time. The longer the chain, the more stressful it can become.