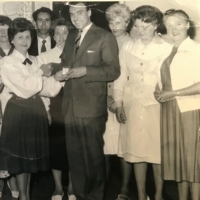 One of our favourite parts of bringing new life to old buildings is hearing stories from their past – especially when they include an Art Deco-style cinema built in the 1930s!
Earlier this year we ran an appeal in Lichfield Live for memorabilia and photos of Lichfield's former Regal Cinema, which we're transforming into The Old Picture House apartments.
We were thrilled when former usherette Pamela Gould got in touch to share a couple of photos and her memories of working at the Tamworth Street cinema from the tender age of 16 in 1961:
"There were nine children in our family and we all had to work. In the daytime I worked in a factory in Shenstone and in the evening I worked in the Regal – Lichfield's poshest cinema. I got paid £2.16 a week and it all went to my mum. I also got two complimentary tickets which I would give to my cousin.
"I got the job there through word of mouth – as you did back then – and I just Ioved it. I did everything from taking tickets and leading people to their seats to serving refreshments and cleaning. I also helped at the busy ABC Minors children's film club on Saturday mornings. We managed to see bits of the films going in and out.
"The cinema was extremely busy back then because there was nowhere else to go apart from the pub. Films were on for three or seven days and people would go every week.
"Our uniform was a blouse, mauve skirt and flat shoes. The manager was Mr Woodhall and he was lovely. He really looked after us. We worked in a team and all helped each other out like family. Each evening one of the other girl's husbands would walk us all home.
"The Regal was a beautiful cinema with red carpets and it was beautifully kept. There was a dress shop on one side and a tobacconist on the other. I'm just so glad the frontage has been retained for the new apartment development.
"Lichfield town centre was much smaller then – there was only really Market Street and Bore Street.
"I can't remember what year I left the Regal but I went on to spend 38 years as an auxiliary nurse – first at St Michael's hospital, followed by The Victoria hospital, both in Lichfield."
Photo: Pamela Gould, third from right, at a presentation to cinema manager Mr Woodhall