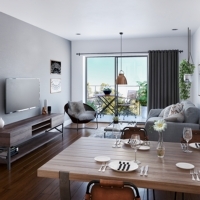 The Help to Buy scheme is available for all our new homes on sale in Lichfield and Warwickshire, but what is it and are you eligible to take advantage? Find out with our handy guide:
What Is Help to Buy?
Help To Buy England is an equity loan scheme from the Government. It enables people on all stages of the property ladder to purchase a new home for just 80% of the listed price – made up of a 5% deposit to be paid by the purchaser, plus a 75% mortgage. The remaining 20% is provided in the form of an equity loan from the Government. You won't be charged loan fees on the 20% loan for the first five years of owning your home.
It means you can buy your dream new home months or even years sooner than planned, as you don't need to save up a large deposit.
Example 1
The Garland one bedroom apartment, at our showstopping development The Old Picture House in Lichfield City Centre, has a list price of £176,000. With Help to Buy, you will only need pay a deposit of £8,800, and a mortgage of £132,000.
Example 2
At our idyllic Blewbury Copse collection of new homes in the Warwickshire countryside, a beautiful three bedroom cottage house with a list price £575,000 would require an deposit of just £28,750 and a mortgage of just £431,250.
Am I eligible?
Help to Buy is open to everyone – from First Time Buyers to homeowners on the move. The home you want to buy must be new, and cost no more than £600,000. You won't be able to sublet this home or enter a part exchange deal on your old home. You must not own any other property at the time you buy your new home with a Help to Buy: Equity Loan
For more information on The Old Picture House apartments, which we are delivering in partnership with Lodge Park Homes, contact Connells Lichfield: 01543 737034 / lichfield@connells.co.uk or visit www.theoldpicturehouseapartments.co.uk.
For more details on our Blewbury Copse development, which we have delivered with Blewbury Homes, contact Connells Wellesbourne: 01789 841535 / wellesbourne@connells.co.uk